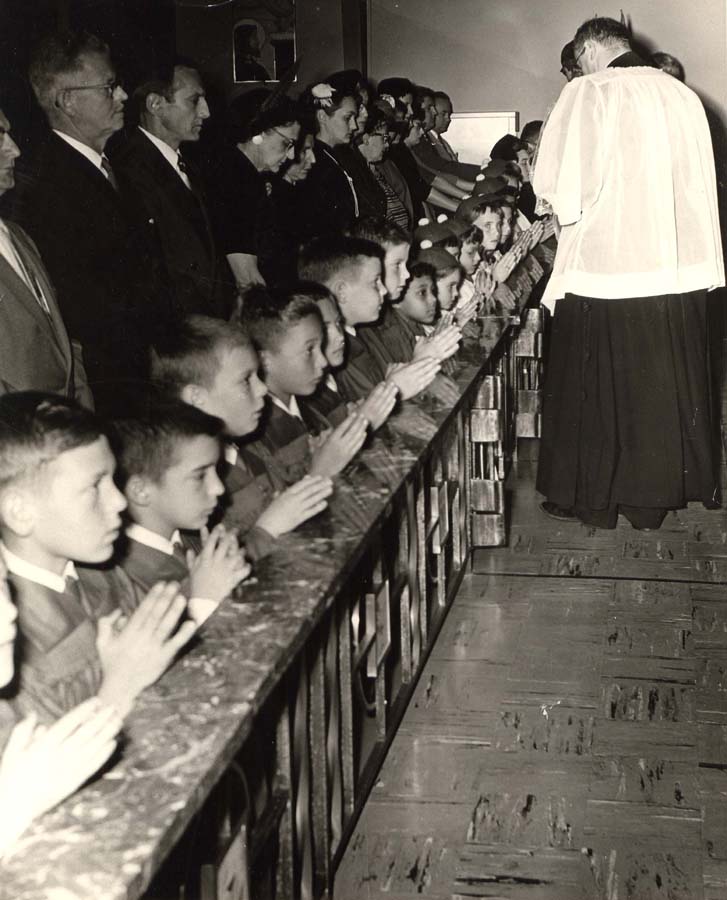 I would see you all bright, shiny — sparkly-eyed in your Sunday Best; the girls in their colorful dresses and their curls under the white scarves; the boys in the pressed suit jackets, starched white shirts, clip-on ties and the sharply creased slacks — freshly polished shoes and the new haircuts molded in place with that green goop. Your moms and dads all dressed up as well — you went out smiling and happy together into the one and only family car to go to morning Mass.
I'm home again — my father and mother are listening to the old standards on the radio from the City where they grew up. They're smoking cigarettes and drinking coffee. I'm trying to watch a war movie but it's hard to hear. My sister is with the family up the hill — she succumbed to the peer pressure — but not me. I'm loyal — a new culture of one. A third generation European-American of Roman Catholic background whose immediate and extended family members and all the ancestors from both the New and the Old World have for all the Centuries since the spread of Christendom every Sunday gone with all the other families to hear the Mass sung in Latin, stood in line to make a good confession the day before or that morning, prayerfully kneeled to partake of what they fully believed was the bread and wine made into the slain Body and shed Blood of the Son of God — this boy trying to hear the made up dialogue, scrutinizing the sanitized-for-the-big screen slaughter of World War II in Europe so he could internalize and sacretize the experiences his father couldn't communicate — is and would be for all his life the first one of this background to not know the kind of Sunday all his Catholic friends and acquaintances and all the others making up the vast majority of the 17,000-plus families in the early days of Levittown and all of their extended families and ancestors had known all of their lives.
Today I try daily  — but unsuccessfully — to get my arms around this. Necessarily my efforts include trying to get others who I think would understand to comprehend its uniqueness and profundity. This almost always ends in failure as well. When I battle through the mitigating dismissiveness to a modicum of comprehension it ends in an inevitable question: "Why did they do that to you?"
"I don't know?" I answer, thinking I have finally got a companion and guide on this lost in the wilderness path. But they always leave me there. It's too much for them too.